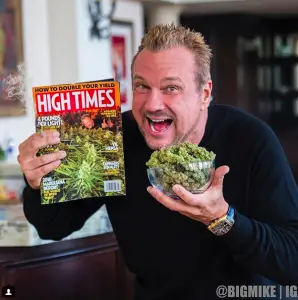 Growers and cannabis entrepreneurs from our community, as well as CEOs and business owners from countless other industries, often ask me for book recommendations.
So, in a moment, I'm going to tell you which books have had the most significant impact on my life and my business.
It's common knowledge that I make a point of investing both time and money in my ongoing education. Books, courses, masterminds, seminars, audio and video programs — I've done it all.
For four decades now, I've gone to great lengths to learn the strategies, tactics, mindset and principles that enable me to lead the kind of life I want to lead. And to say it's paid off is an understatement.
I've studied not only botany and the cannabis plant, but also business, sales, marketing, branding, leadership, success, mindset, neuro-linguistic programming, spirituality, philosophy, psychology, history, radio scanners, anti-surveillance techniques, counterintelligence, radar technology, credit, banking, investing, politics, government, and a slew of other subjects that have helped me build both myself and my company to where we are today.
Back when I was a guerrilla grower, I prepared myself to outrun law enforcement by enrolling in schools for both counterterrorism driving and race-car driving. I even entered a handful of Formula Ford races.
So that I could scout out potential grow spots and scrutinize my patches, I learned to fly planes and ultralights and, years later, helicopters.
I invested heavily in high-dollar research books. Some of these books cost more than $3,000 apiece!
I also tracked down little-known Russian cannabis research papers from the early 1900s, had them translated to English, and analyzed them like a professor of literature analyzes War and Peace or Crime and Punishment.
For three-and-a-half decades I've been running R & D on cannabis.
I've experimented on every imaginable facet of marijuana. In the early 2000s, I performed comprehensive testing on cannabis with university research departments in British Columbia.
Today, I oversee hundreds of grow experts and employ a team of 25 full-time Ph.D.'s dedicated to discovering new ways to take cannabis to its true genetic potential. Together we've brought more than 53 industry firsts to the world of marijuana growing.
And to ensure I stay on top of my business, right now I'm in a private mastermind that costs me an annual six-figure sum to be a part of. But the positive return I see from implementing what I learn in the group pays back my membership fee — as well as the travel costs, including jet fuel and pilot's wage, plus the bills from my luxury hotel stays — dozens of times over each year.
Investing in yourself is one of the best investments you can make. And I can say with confidence that since I began growing in 1983, I've invested well over a million dollars in my education.
If it weren't for my studies, Advanced Nutrients would not be anywhere near the nine-figure-a-year company it is today.
These days, my private jet is forever transporting me to meetings with high-level advisors, as well as symposiums and masterminds all over the world.
I've met and become friends with self-made millionaire and billionaire business owners from more industries than I care to count, most of whom have no college degree to speak of.
But one thing they almost all have in common is that they've spent a great deal of time researching business and success principles and have educated themselves on the skills required to build their empires.
Success author and motivational speaker Zig Ziglar once said: "Rich people have small TVs and big libraries, and poor people have small libraries and big TVs." (RIP, Zig.)
Now, I'm not sure I agree with ol' Zig about rich people having small televisions. I have quite a few friends with luxury home movie theaters so impressive you'd think you were in the home of Steven Spielberg.
But I do agree that wealthy people (especially those who are self-made) spend a lot more time reading and educating themselves than they do watching television.
And I can't think of a single self-made success I know who doesn't have an impressive library of books. When too busy to read, they listen to audiobooks during their commute or on their morning run. Either way, they make a habit of downloading knowledge into their brain that will aid them on their journey.
You could say I'm a geek for knowledge. I won't hesitate to invest in anything that will help me learn the strategies, tactics, mindset and principles required to hit my goals.
And above all, I apply what I learn. Because without action, education is useless.
Below is a list of (non-cannabis) books that have had the most impact on my life and business. I hope you find the books as beneficial as I have.
Hands down my top-six must-reads are:
The Ultimate Sales Machine: Turbocharge Your Business with Relentless Focus on Twelve Key Strategies by Chet Holmes
The Law of Success by Napoleon Hill
Ready, Fire, Aim: Zero to $100 Million in No Time Flat by Michael Masterson.
Work the System: The Simple Mechanics of Making More and Working Less by Sam Carpenter
The Ultimate Sales Letter: Attract New Customers. Boost Your Sales. by Dan S. Kennedy
The 22 Immutable Laws of Marketing by Al Ries and Jack Trout
Other business books I recommend include:
Gamification: Playing for Profits by Chris Collins
Good to Great: Why Some Companies Make the Leap… and Others Don't by Jim Collins
Blue Ocean Strategy by W. Chan Kim and Renée Mauborgne
How to Get Rich: One of the World's Greatest Entrepreneurs Shares His Secrets by Felix Dennis
All of Dan Kennedy's No B.S. series of books
Branding is one of the most important areas cannabis entrepreneurs should be focusing on right now.
Brands are going to own the future of our industry. To help educate you on the subject…
Here's list of brand-building books I recommend:
The 22 Immutable Laws of Marketing by Al Ries and Jack Trout
Creating Brand Meaning: How to Use Brand Vision Archetypes by Peter Steidl
Neurobranding by Peter Stiedl
What Great Brands Do: The Seven Brand-Building Principles that Separate the Best from the Rest by Denise Lee Yohn
The Power of Cult Branding: How 9 Magnetic Brands Turned Customers into Loyal Followers (and Yours Can, Too!) by Matthew W. Ragas and Bolivar J. Bueno
Marketing books that have had the greatest impact on me:
Tested Advertising Methods by John Caples
The Ultimate Marketing Plan: Target Your Audience! Get Out Your Message! Build Your Brand! by Dan Kennedy
No B.S. Guide to Direct Marketing by Dan S. Kennedy
Getting Everything You Can Out of All You've Got: 21 Ways You Can Out-Think, Out-Perform, and Out-Earn the Competition by Jay Abraham
Purple Cow by Seth Godin
Ogilvy on Advertising by David Ogilvy
The top mindset and success books I recommend:
Think and Grow Rich by Napoleon Hill
Psycho-Cybernetics by Maxwell Maltz
As a Man Thinketh by James Allen
Thick Face, Black Heart: The Warrior Philosophy for Conquering the Challenges of Business and Life by Chin-Ning Chu
Failing Forward: Turning Mistakes into Stepping Stones for Success by John C. Maxwell
There you have it, my top book recommendations.
(=
Talk soon,
BigMike
P.S. You may also enjoy reading:
What BigMike Won't Tell You About Advanced Nutrients. Written by all-star team member Eljay, this post tells the story of my life as a grower and cannabis entrepreneur. Spanning decades, it's a wild ride that involves millions of pot plants, hundreds of millions of dollars, ingenious counter-surveillance techniques, a shakedown by a violent biker gang, a plane crash, a crazy and vengeful ex-girlfriend, giant busts, a manhunt by the DEA and US Marshals, a kidnapping, life on the lam under seven different identities, and over 50 firsts in the world of marijuana growing